One of the applications which went viral with a whirl wind speed is whatsapp; the application has around 1 billion users and around 750 million active users. 
The most intriguing part is that India ranks second in the list of holding highest number of whatsapp users, there must a reason behind why this application is doing so well.
whatsapp has constant updates and they are trying to come up with different features which are user friendly and gives ease, so here we will tell you which are the new whatsapp version features though some of them are known to everyone and few are hidden yet awesome features added by the whatsapp.
These whatsapp features are working like a one shop stop for all the needs, as they are catering and covering up almost everything which was earlier catered by different single applications on your smartphone, now you need only whatsapp as it can multi task because of its new features in the recent updates, below mentioned features are the new features of the recent whatsapp update.
1. Video calling
Now if you try to place a call one will get an option of video calling as well, the new update of whatsapp has video calling, so now you can contact and have a video chat with your near and dear ones in just seconds, so need not have a Skype account now and can directly and conveniently video call anyone.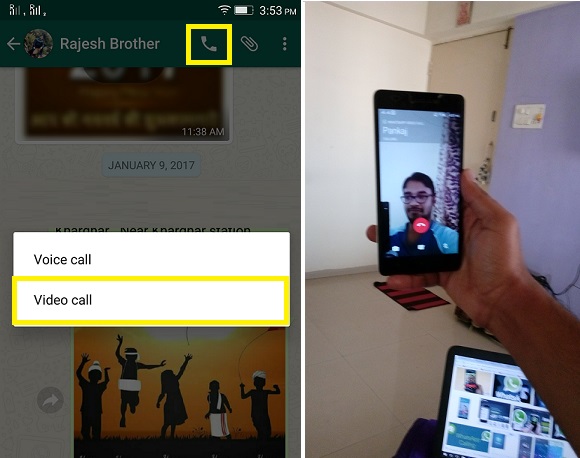 Video calling was one of the most demanded features of whatsapp which was added in the end of the year 2016.
2. WhatsApp launches new Status feature
Previously you could update status with "test only" but whatsapp added new feature and now you can add image,GIF and video as well in status, which will disappear after 24 hours.
This feature is much similar to Instagram and snapchat stories so user of both network already use to of this feature. you can even reply or comment to status of any person.
3. Convert Small video into GIF
Whatsapp help you to convert small videos into GIF and if  you are not aware how then follow below steps.
Click on attachment sign next to the text input field.

Select Gallery option then you can see 'Photo, video library and GIF tap.

Choose video tap and select 6 seconds or shorter video.

You will see GIF switch at the top so tap it and your video will be converted.
You can also add text, crop it, add smily over GIF.
4. Extension in the limit 
well now you can add about 256 members in one single whatsapp group, so you can be in touch with your family and friends easily, you can also mute and customize the notification of the group in case you want to, there are options available and you can choose accordingly. For more information you can read Whatsapp FAQ on group.
5. Watch before it finishes downloading videos 
Now you will no longer need wait to download videos and then watch. Now you can  stream videos while the video is downloading to your device.
By this feature you come to know what about this particular video is and if you not like then do not download so ultimately it save your mobile space and also your internet bandwidth.
6. Capture the moments
 This feature is just like an enhanced version of snapchat, you can now easily capture all your crazy moments and send it to your friends adding emoji's and text over them just like snapchat.
7. Sharing PDF's and documents
well to make things easier for you whatsapp has come up with this feature, now you can send documents, PDF's and slideshows without any hassle, you can spend the documents up to 100 MB.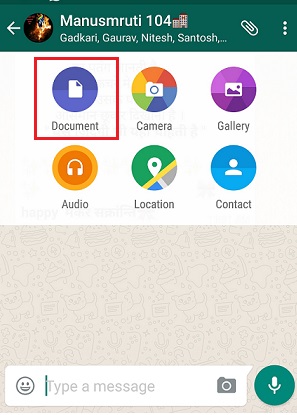 8. Sending GIF's 
Now everyone can share GIF's along with the images and videos, so one can express their moods and emotions using these GIF's, they are the most interesting and funny way of expressing and were on the wish list of millions of whatsapp users.
9. Change your text
we all want some part of the text or a punch line to be highlighted unfortunately we couldn't do it on the previous version of whatsapp, but ever since the new version of whatsapp one can change their text into bold and italic and even strike them through.
Bold – use the sign (*) before and after the text to convert it into bold.
Italics – use the sign (_) before and after the text to convert it into italic font.
Strike through – use the sign ( ~) before and after the text to strike through the text.
10. Quote reply to a particular text 
if you get a lot of messages in a row and wish to reply to one particular thing and was unable to do so, not anymore cause now one can reply to one particular in a group or personal chat by switching to the new version of whatsapp.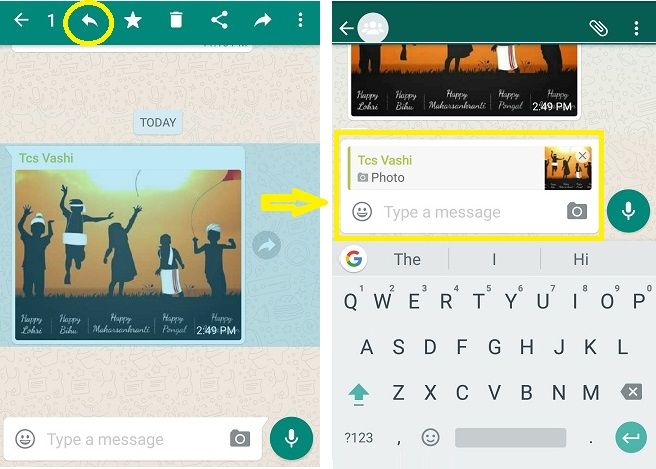 firstly go to the text and then press it for a while until it turns blue and then wait for the arrow to come on the task bar click on it and you will get an option of reply, this enables a user to reply to a particular text only out of bunch of messages on his/her whatsapp.
Few more Complements!!!
11. Chat with an individual in a group without any confusion 
Well this is one of the hidden feature which many do not know about that now you can reply to one person in a group chat by easily tagging them, all you have to do is use the symbol @ and then type the name and the whatsapp .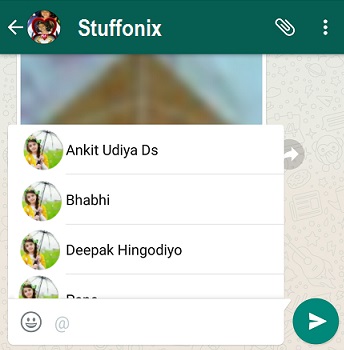 It will give you options of the members and then you choose your person and tag them in a message of that group chat, this feature is very helpful at times cause you can easily spot one message out of the overflowing whatsapp group conversations.
12. Default security 
This is one of the feature which you will discover in very rare applications and it is end to end encryption, while we chat we are always in a fear that what if someone hacks the chat and gets the data but this issue was addressed by the whatsapp and they have come up with an appropriate solution.
Now the chats are safe between the two the sender and the receiver, the intriguing part is that if once the chat is deleted from both the devices it is gone forever and not even stored in the company's data base.
13. Selfie flashes
The inbuilt camera of the whatsapp has got selfie flashes for the people who want to send instant images to their friends via whatsapp, this enhanced feature of whatsapp is loved by everyone who did not have a flash lash for a selfie in their smartphone itself, you can also shoot videos which could be zoomed in as well as zoomed out.
Lately whatsapp has come up with some incredible features and according to the sources, whatsapp is planning to integrate their whatsapp voice calls with the SIRI, so one can use SIRI to make whatsapp voice calls easily, and the tech company says there are many new features added in the bucket list which will soon be out and updated in the coming version and update of whatsapp.
Still I forgot something? please write in comment and add new features.
Thank you.