Are you using whatsapp for sharing jokes and many more?  
Me too!!! Actually 1200 million people in world..
But do you know this platform is available free of cost for 1 year period only (some country it available free for lifetime) then you need to pay approx $0.99/year to renew your Account.
This amount is only charges from selected countries like Indian does not need to pay for whatsapp after one year even.
So if you are living in country where you need to pay to avail whatsapp service for next year then you will get one best option to pay for your friend or for any other member using your whatsapp account.
As for USA and other developed  country people it is very less amount to pay so they can pay for whole family and renew Whatsapp account for all.. so Here we are going to show you how you can pay for other. 
How to pay whatsapp renew amout for other
Step 1- Open whatsapp app & Click on setting link under 3 small vertical dot(.) at top right side as below.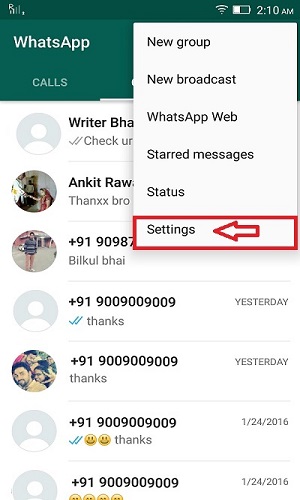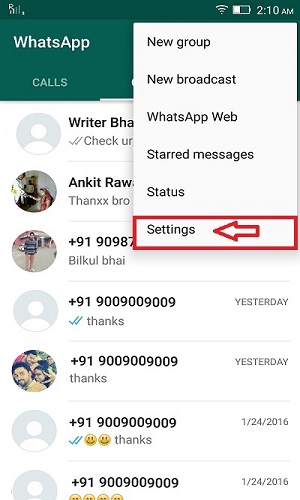 Step 2:– In setting screen select contact link as below.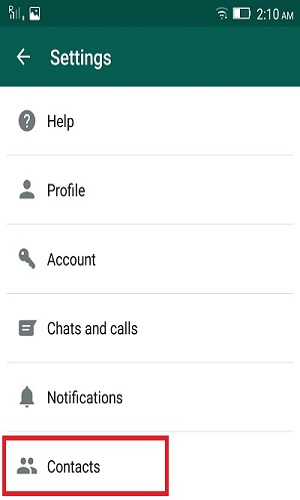 Step 3- Click on Pay for a friend (friend means anyone in your whatsapp list or contact list).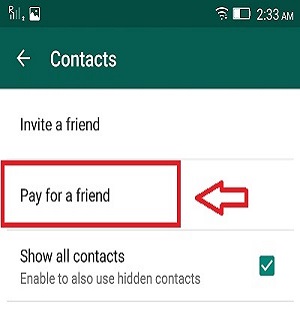 Step 4:- Now choose contact from your whatsapp contact number then you can choose subscription to pay for 1 year, 3 year or 5 year. Then pay this fees through Google Wallet or PayPal.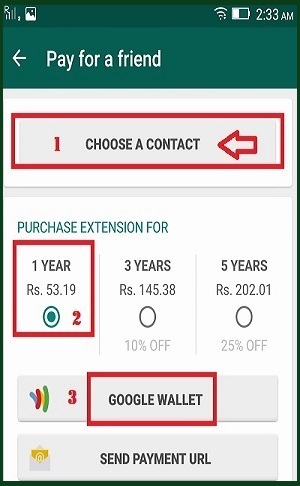 Done….Now you will get just thank you from your friend and please do not pay for girlfriend…other wise you will get money from her. 🙂
You might like to read : How does paypal work- A Step by step guide
Hope you like this post and pay subscription fee for other people and get blessed from them.
A big thanks  for reading .