Image play very critical role in any website, email or on social media but what if same image are responsible for slow loading of website or taking much time in uploading.
Even if you provide very quality content but image not allow your website to load fast so people loose interest in your site and move to other. As per one study "User wait 4-5 second to load any web page". 
Google also not like those site which take more time in loading and reduce their ranking.
So To get rid of this problem we should reduce size of our high megapixel image so webpage will load faster and it saves bandwidth.
You may thinking about quality losses in compress image process but actually not!!
All online image compression tools are created in such a way that you will not loss image quality even a bit But size will reduce drastically. Please make sure not to use any images from Google rather take images from Royalty free images platform.
Online image compression tools
1. TinyPNG
TinyPNG use smart lossy compression techniques to reduce the file size of your files. By decreasing number of color in image, fewer bytes required.
you can  even not differentiate your real image and image after get compressed means effect is very invisible but file size decrease very large.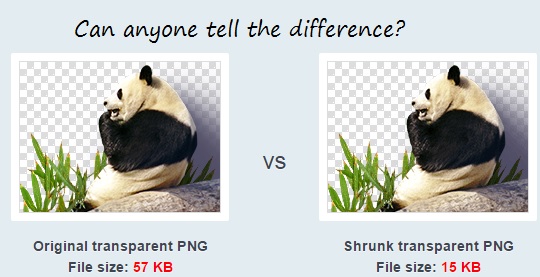 Best Feature:-
Free of cost- You do not need to pay single coin to use this tool.
No Signup – No need to register your self to use this tool
Multi image- You can compress multiple image in just one go.
Compression– Decrease up to 80% of file size. Show percentage of size decrease and size of result image.
Format support – Support .jpg and .png files only but since 2016 they added support for animated PNG
Note- If you want more compressed size then you can do same process again with compressed file.
2. Compressor (Free)
Powerful online tool to reduce size of your image without losing quality of image and supported by many format whilst maintaining a high quality with almost no difference before and after compression..
You can  choose from 2 type of compression – Lossless or Lossy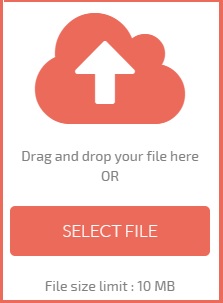 Best Feature:-
Free of cost- Similar to above tool this tool also free of cost.
Only single – unlike above tool You can compress single image at a time and 
Compression – Compress and optimize up to 90% of file size reduction.
Image Format- Support 4 file format JPEG, PNG, PIF, SVG files.
Save location- Can save on Google drive and drop box also.
Accepted image size– Provide compression up to 10 MB file means more than 10 mb file not accepted.
3. JPEGmini (Free/Premium)
JPEGmini is a patent-pending photo re-compression technology, which significantly reduces the size of photographs without affecting their perceptual quality and help in Reduce Page Load Time,Cut Storage and Bandwidth Costs.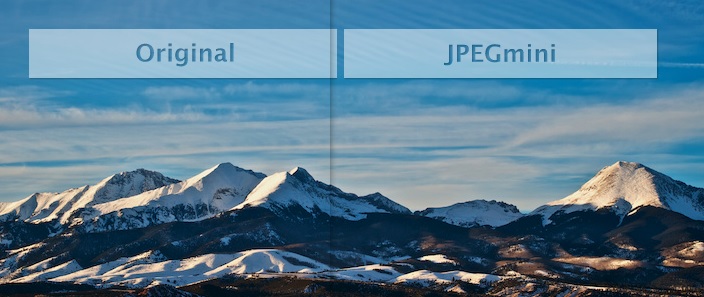 Feature:-
Signup required- For free use also you need to sign up this platform.
Limited free addition- Free trial available but limited time. So once free trial expire then you need to pay for it.
Platform Availability- Available for MAC ,PC(windows) and server.
Multiple image- You can upload full album in just one go.
Premium version are 3 type
JPEGmini  :Cost $29 and  Unlimited 28MP photos.
Pro: Cost $99 and Unlimited 60 MP photos.
server:-Cost $199, Available Free 14 Day Trial
4. Compressnow (Free)
Help to reduce weight of Images and best thing in this tool is you can select compression level so it reduces as per level. 
My result:-
Original file size: – 17.90KB

Compressed file size: – 7.65 KB.
Feature:-
Free of cost- This tools also available in free of cost
Image size- You can upload image up to 9 MB.
Image format- Supported file types are: GIF, JPG, JPEG, PNG.
Browser support- Compressnow works on browser like: Chrome, Firefox, Safari, and Opera.
Preview option- provide Interface with real time preview.
5. Punypng (Free/premium)
Free website optimization tool that dramatically reduces the file size of your images without any loss of quality. your file up to 60-70% but you need to go for pro version of this tool .once you upgrade version then  you can compress image for mobile also.

Feature:-
image format-Supported file types are: JPG, GIF and PNG.
image size- Max 500KB file you can upload.
Multi image- You can upload up to 20 files.
No signup- For free version no need of registration.
6. Caesium
Open source software for image compressor, With more than one million worldwide downloads. Caesium is one of the most popular image optimization.
you can make changes as per requirement. You can also download software for Windows portable version for USB drives. Software available in 3 option  installer, Portable and source code.
Feature:-
Free of cost – You can download this software without paying single penny.
Donation option- You can donate money if you want using PayPal.
Preview option- Interface with real time preview.
Multi image- Multiple image processing at the same time is possible.
7. Imageoptimizer
It help not only with optimize your image but also help in convert image of one extension into another extension. Here you can directly enter image URL and compress image.
Best Feature:-
No registration-  you do not need to sign up to use this tool.
image size- Provide very less image size option.Upload Size limit: 2.86 mb
Image format- Support file type gif, jpg, or png
Trusted partner- they are Partner with hosting site hostgator.
other functionality- Many other functionality also available FavICon generator, FavIcon editor etc.
Compress image at imageoptimizer
8. jpeg-optimizer (Free)
A free online tool for resizing and compressing your digital photos and images for displaying on the web in forums or blogs. 
My result:-
Original file size: – 167.9 kb

Compressed file size: – 11.0 kb (Quality very low) so provide compression level high
Feature:-
No Download- You do not need to download any software.
Free of cost- No cost need to pay for tool use.
Modify image- You can decrease or increase height of image.
image size- Reduce file size up to 95%.
Compress image at jpeg-optimizer
9. pngoptimizer(Free)
It helps you to Cleans your PNG files  useless or wrong information and reduce size of PNG format file. You can download this software for your windows(PC) as well for Mac version.
But this tool is not available online, you need to download software.
Feature:-
Image format- Reduce only PNG image size.
No cost– Free of cost available.
PNG conversion- Converts into PNG other lossless image formats (BMP, GIF, TGA) & Support animated PNG also.
Availability platform- Software available for window and linux for both 64 bits and 32 bits.
Compress image at pngoptimizer
10. RIOT(Free)
RIOT has an easy to use interface to compare the original with the optimized image in real time and instantly see the resulting file size.
RIOT is  powerful tool  for advance user and You can compress image online without download any software.
Feature:-
No cost- Free image optimizer
Availability platform-Software available for windows OS (PC).
image format- JPEG, GIF and PNG.
Hope you like this blog post…you can use online image compression tools and reduce time for loading website.