"Impressive line ups! Latest fashion statements! Unbelievable pricing! But your business is not as expected. The number of hits is very low that the cost that goes in maintaining the website, is not even recovered from the business outcome.
Looks like it is time to do the certain call"-many enterprising business promoters land up in such soup within days of opening their online store. They feel online business is not their arena as they are unable to meet and greet customers in person; discuss the business prospects with them and improve the sales.
As a result they either wrap the online store or leave it unattended without posting any timely updates.
Such unfortunate happenings occur mainly as they venture into the online store without prior preparation or homework.
Here are some tips and tricks from extreme internet marketers who know what is required for a website to acquire maximum hit count per day. Check these out and make your online store a big hit!
1. Impressive landing pages
So, you have put up scrollers and url links in your promotional emails to prospective leads and are expecting them to visit your site right?
But have you made an eye catchy landing page?
Have you given your website an appropriate theme and wonderful colours that make audiences mesmerized and go berserk in joy? If not done, do it immediately.
Be it any e-store, e-commerce website, knowledge portal etc. an impressive landing page is a must. This helps in two ways. One, it nudges the visitors to browse the contents with anticipation. Two, it can also give you some indirect promotion.
You can see one sample of landing page of mailchimp.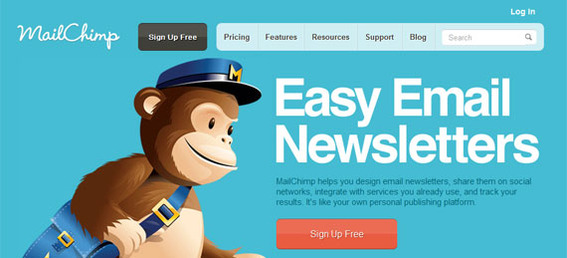 2. Great headings
Landing page done. Next what?
Of course get a copywriter to give you lines that can be affixed as tag lines or headings which attract eager audiences to your portal.
If you are announcing an end of season sale, a discount session or any special offers, give great captions that will make readers understand what is in store for them and how can they help themselves through your website.
If you are blogger then you can use heading with number like "10 best site" or "10 best tool" so it attract user easily , you can also use heading like "Step by step guide" or "practical guide" of something. Like

3. Start a blog community
If you are done with customizing your website to suit the gen next, try the next trick by starting a blog space where you collect articles and post them frequently.
You can have many blogs written closely to match your line of business and add them to your blog space. This will get you a wider audience who can visit your webpage from the URL specified in the blogs.
4. Promote via social media
If blogs are one way to promote your website, you can take the help of social media like Facebook, Twitter, Quora, Instagram, LinkedIn, etc. where you can create a fan page and post your website adverts and banners.
People attract if your writing and topic are unique than other blogger in online space.

You might also like to read-
5. Optimize your contents

Last but not the least, and also a highly successful trick is content optimization.
Always remember, when a customer searches for a website with a keyword, if it matches your line of business, your website must be searched and listed within the first 10 listings of the SERP And content optimization with adequate keyword research is the best possible way to popularize your website.
Not just these five tips, you as a business promoter can choose any legit and optimal technique to maximize the hit count and grow your online business beyond boundaries.
Make sure web based businesses are created not to get shut but to become sensational and super hit. So, are you now ready to sail successfully through the turbulent ocean of online ecommerce business?
You might also like to read-
Hope you like this blog post…And apply above given techniques to promote your blog post to get high traffic.
A big thanks for reading 

.