Do you know more than 26% of world sites powered by WordPress?
And here WordPress include both WordPress.com as well as wordpress.org. Don't get confuse in both and if you want to know more then check which one is better wordpress.com or wordpress.org
We have already written a complete guide about wordpress.org and you can also check how to create a blog using wordpress.org
So in this post we will provide you a complete guide about wordpress.com and how to use it step by step.
So are you ready?  Ok!! Let's start…
wordpress.com provides you free as well as paid blogging platform according to your respective needs. Here you can write, submit posts and articles for public viewing.
However, topics like porn, pharmacy, terrorism and gambling are not allowed to be posted.
Just because of few restrictions on the posts many people just went down to start their own website and after learning few basic things here people move on to making self-hosted websites.
Apart from certain restrictions imposed on blogging on WordPress it will provide you a better experience than making your own website and saves you from the hassle.
It is basically blogging on a sub-domain. You are generally blogging for another domain or website. In this instance it is wordpress.com and your blog address will also be a part of WordPress subdomain.  
if you are still bit confused about the differences of free blog and self-hosted ones then you can read below to know more about how to make your own blog or how to start a free blog on self-hosted domains. 
Starting a blog on wordpress.com
I would say it's not at all a rocket science to start your own WordPress blog. There are few steps, all you have to do is to go on wordpress.com and click Get Started.
So on this topic, we would cover all these steps.
First, create an account

Then, choose a layout for homepage

Next, choose a theme

Next, choose a subdomain address/ blog name or URL

Pick a plan
Step 1. Choose a layout for homepage
It is almost an essential step and a very first one in making your own blog. There are particularly four possible options given. I would mention here the most obvious format for a blog so it's easy for you to grab in.
if you are interested in making a photo blog. Then you should choose "start with portfolio". For those who own business, I would suggest "start with website" or "start with an online store" would be better and fitting and for only blogs "start with a blog" option is the most appropriate for choosing.
Step 2. Choose a Theme
A theme is the color and outlook of your blog so it can have the colorful appearance and design comes under this option. So I would suggest you to choose wisely. However, you can change basic pictures and colors in their options menu.
Choose a theme page would look something like the below-given image. So you can pick up any theme which you intend to use or which would be appropriate for your respective website. But don't waste too much time in selection.

Step 3. choose a subdomain address/ blog name or URL
It is one of the difficult and mandatory tasks which you must undergo. Unfortunately, it is difficult to find a desirable, unique or a catchy address for your blog in WordPress.com because usually good names are already taken.
Finally, just try to get yourself register with a good meaningful blog name and make sure that the name which you had taken is not very clumsy.
Should you Buy a domain name?
If you think that buying your own domain will make more sense, then I think WordPress.com is not a suitable place for it.
You shouldn't be worried about buying a WordPress domain in order to use it. It provides you a free domain software.
Which blog should you pick?
I suggest you to try hit and trial method and find something good for your blog. I would prefer that you should take a little time off think, brainstorm or do whatever is necessary and come up with ideas and names.
If you cannot decide using your real name is also a very good option. Even if you are not getting perfect domain name then use domain name suggestion tools.
Step 4. Pick A Plan
Once you are all done with the above steps then you need to choose a plan for your blog. If you want to make a free blog, then select free plan option from the given page else you can choose a paid plan. As this article is about free so I would like to be on that topic only.
Let's just not try to row too many boats at once.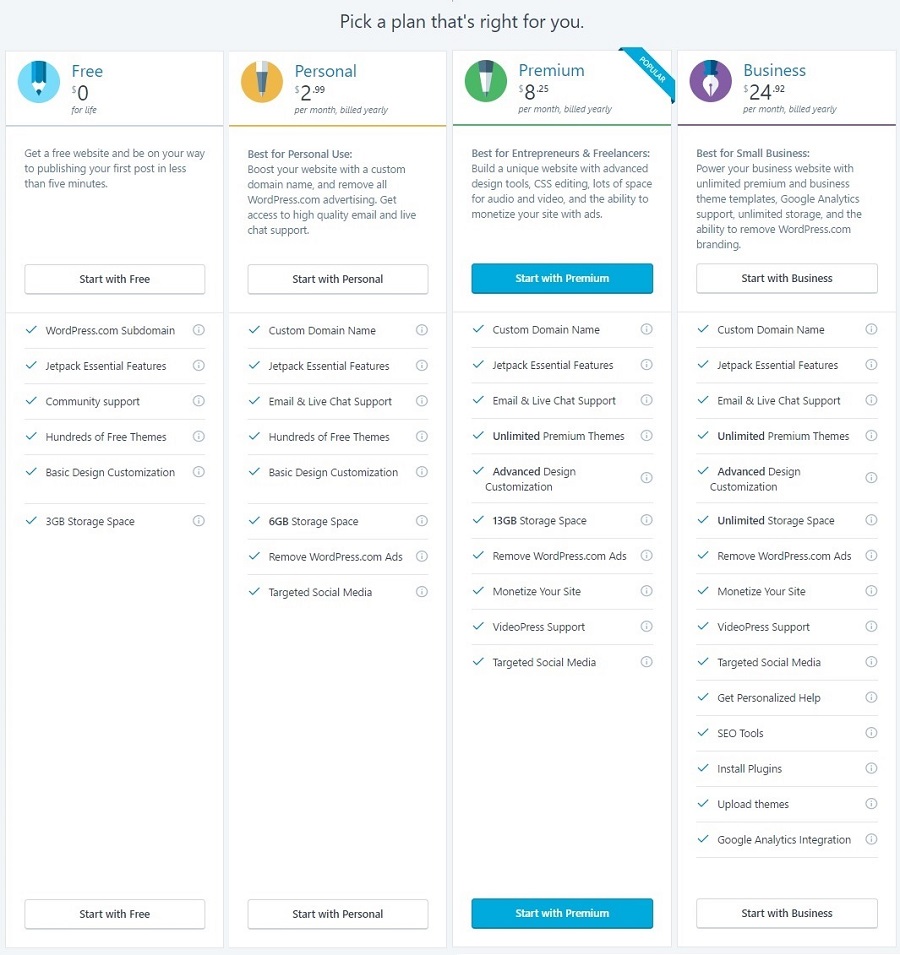 Apart from that, you would not use paid version for the first blog as it is quite expensive and doesn't give you much benefit.
Step 5.  Create your Account
E-mail Address: in this field, you have to obviously enter your e-mail address which ever you wish or prefer.
Username: try a unique name try first of all your first name then try your complete name without any spaces in between as spaces are not accepted in the username field. If then also desirable username is not available, then add some memorable number to make it unique. Just don't worry because it will not be your blog name.
Password: I suggest you to choose a combination password which would have upper case letter, lowercase letter, number and special character. However, any two out of them in combination will give you proper security.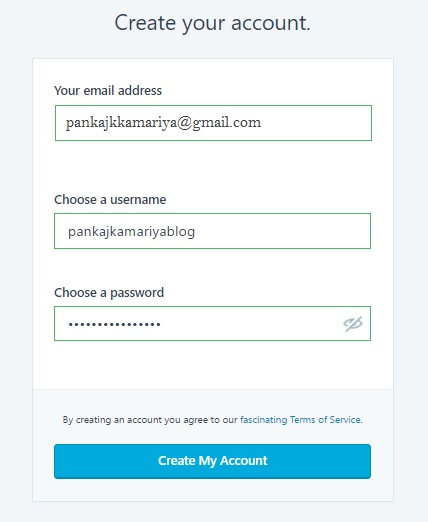 How to login?
You are done with almost everything now! But before starting blogging you must first need to verify your email address. It's basically a simple step for anyone.
Simply just go to your email whatever email account you use whether its Gmail, Hotmail or yahoo doesn't matter you should first check your inbox for a mail from WordPress.
However, if you can't find your email in your inbox folder then you can check spam and other folders for the confirmation mail. If you don't find any mail, there then you can resend the verification mail from the WordPress after login.
Once you find the confirmation email just simply open it and click the link where it's written click here to confirm your WordPress account.
Customizing blog and creating post
It's a step forward which you can do after the confirmation process. The dashboard given in WordPress is quite easy to use and user-friendly.
However, before continuing your blogging experience, you can get over with few modifications if you want like modifying your theme a bit or the design of the blog. You can simply do by going to "Appearance" -> "Themes" (at the left sidebar).
There you can observe that there are a number of different themes. Some of them would be paid and others will be free. Don't be a fool that you buy away a paid theme just because it's quite expensive. It would be suggested that you should use a free theme.
Now choose themes and see how things goes. Keep trying with different themes until you found the perfect theme for your blog. You should keep in mind that you can change the theme whenever you want so that's not an issue if you choose a wrong theme.
When you are done with your overall blogging niche. You should just simply click activate to activate the theme. There are 200+ unique themes available to choose so be free and choose wisely.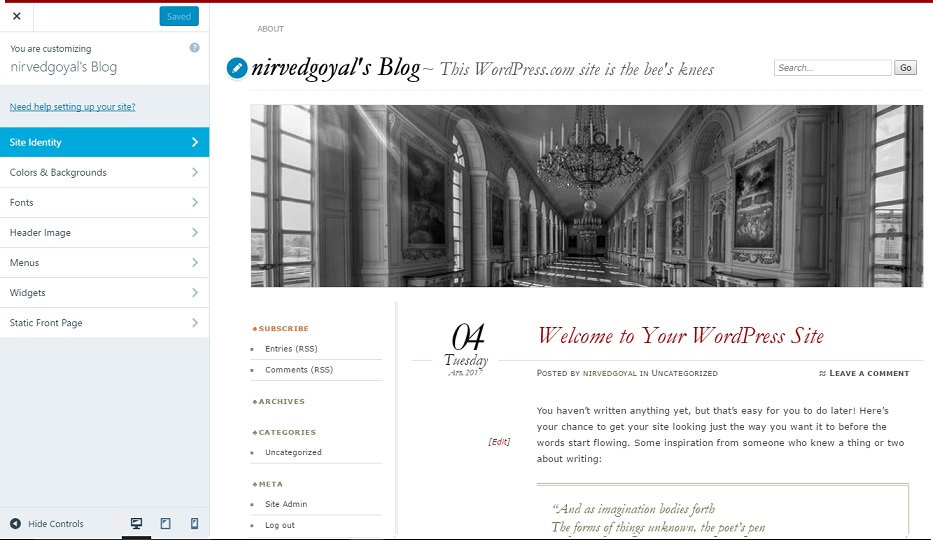 Adding new pages and blog posts
to create a new post as well as pages you should go to dashboard then navigate to "Blog Post" click "Add" and for adding pages' use "Page" click "Add".
You shouldn't usually bother about pages much. To be precise these pages are generally about "contact us" or "about us" and all.
So, in order to basically create a new post for your blog is simple so let's start and see how things goes. In order to have a new post, you should first navigate to "Post" and then "Add".
After completing with the modification, you can hit publish button to publish it. You can add a few "tags" to make it more optimized amongst the search engines. In short, if you add tags it is easier for anyone to find your blogs by using respective keywords or tags.
However, I would suggest not to be too excited much as new blogs generally don't get much attention. You have to share it tweet it and promote it for that you can use Facebook and twitter etc.
Hope you like this post and surely create your own WordPress blog. I recommend for those who are willing to write dairy everyday or starting a career as blogger.