You must thinking how one can earn by just online captcha entry job…correct?
I was also wondering when I heard about captcha entry jobs and how one can earn by just filling some words.
But Yes!! You can earn not very huge amount but at least you can survive easily and if you have good typing speed  then you can save few bucks also.
There are many ways of making money online from survey filling to url shortening to online teaching but simplest work is captcha entry job, which count as micro job &  does not required any special skill like expert in computer, English or even fast typing.
Before start let's know what is captcha?
As per wikipedia "A CAPTCHA (Completely Automated Public Turing test to tell Computers and Humans Apart) is a type of challenge-response test used in computing to determine whether or not the user is human."
Humans can read distorted text as the one shown below, but computer programs can't. Captcha entry work help them to use you as human being to register in different website without recognize bot or any application.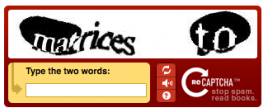 Note: Please be aware from online scam and for more information you can read top freelancer scam in online world.
Few legitimate site to get online captcha entry work
1. 2Captcha- Get paid for captcha entry job
One of the best and legitimate platform to earn money by online captcha entry work. 2Captcha get everyday approx 1,000,000 captcha to solve So it is easy to get work here.
Average speed typist can solve captcha in 4-5 second and earn good amount of bucks in a day.
Feature:
Price of each captcha depend on how many captcha solver online.

Minimum withdrawn starts from 0.5 USD.

No commission on withdrawn money or earning.

You can also earn here by referral.

You can earn $2 to $10 in a day but overall depend on your timing and speed.

No time restriction,its available 24*7.

Less paying website compare to other sites.

You will be paid in dollars.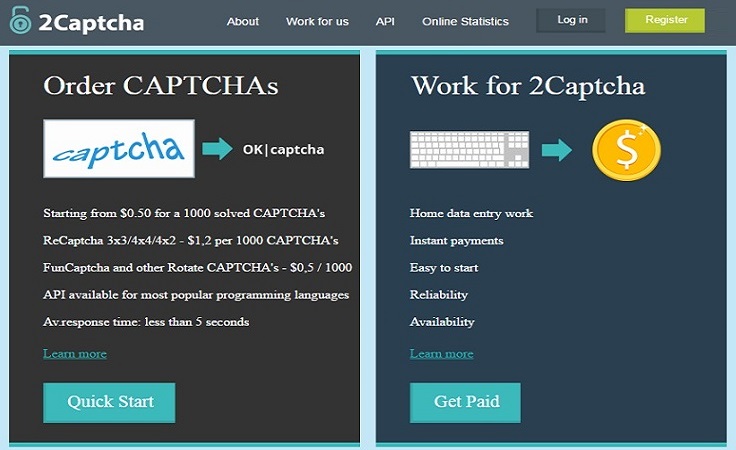 Please also check : Best sites to get online survey job
kolotibablo
Another genuine and best captcha entry site. All you need to do is register yourself in the kolotibablo site and then whenever you are ready then just login this site and start typing words. You will be getting $1 for every all the 1000 images that are correctly typed.
One more benefit is with increasing your level you will get bonus which would be some percentage of what you have earned.
Feature:
There is a limit for every wrong answer and the account will be banned for further use.

You will be paid the money through web money or through Payza.

Top paying website compare to other.

You can skip word if you are not sure what it is.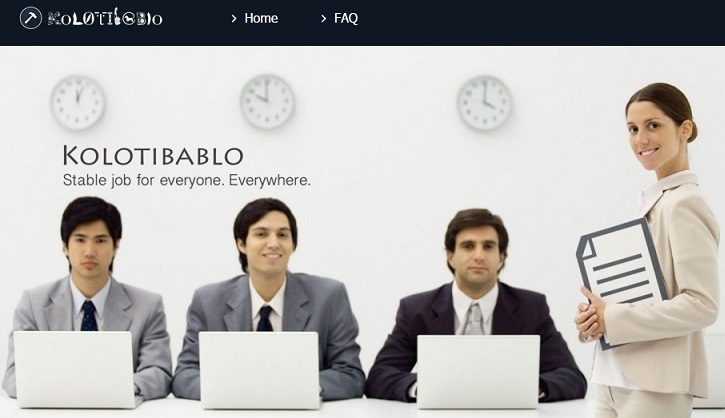 Please also check : Best sites to get online transcription job
3. Megatypers
This website also pay good bucks on complete captcha you just need to signup and start working. You can earn $.40 to $1.5 per 1000 captcha and they also awarded top 200 captcha solver per days.  
You need to be fast in order to complete this task as you will be having 15 Second to complete each captcha task.

Feature:
Payment rates vary per hour. You can see below one sample list.

you can check the payment rates for every hour of   the day in the "Statistics" page.e-currencies for payment processing are Paypal Perfect Money, Payza, BitCoins.

You can escape and pause any time.

All payment credit to respective account on Monday.

For registration you need to provide invitation code.(you can find on Google).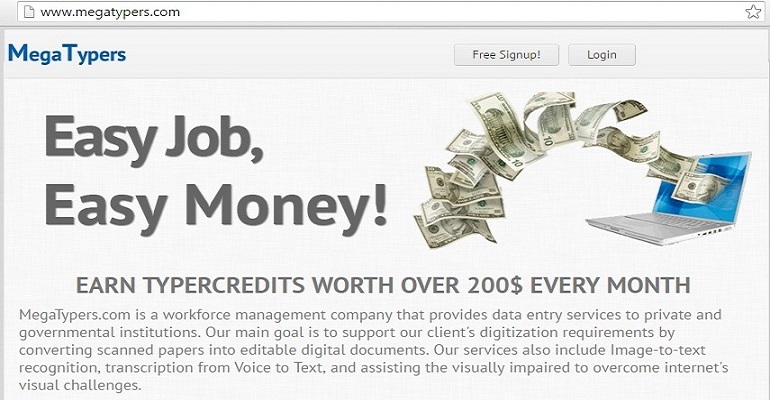 You might also like to read:
4. Protypers
Protypers is sister site of megatyper captcha entry tool as you can see both looked same and owned by same company.
This site give $0.60 to $1.40 on per 1000 captcha solving. Similar to megatyper here also rate change as per timing, so choose best time when you will get more money.
Feature:
You can earn 50% extra by activating smart captcha.

You can log in with same credential which you used in megatyper.

Your precision rate should be higher than 75% otherwise total amount of image would be reduce.

You will be given the money through the PayPal site, Western union.

There should be a minimum amount of $3 for a minimum payout and you need to maintain it.

Payments are made every 2 weeks .

You are only given 9 seconds to enter the images.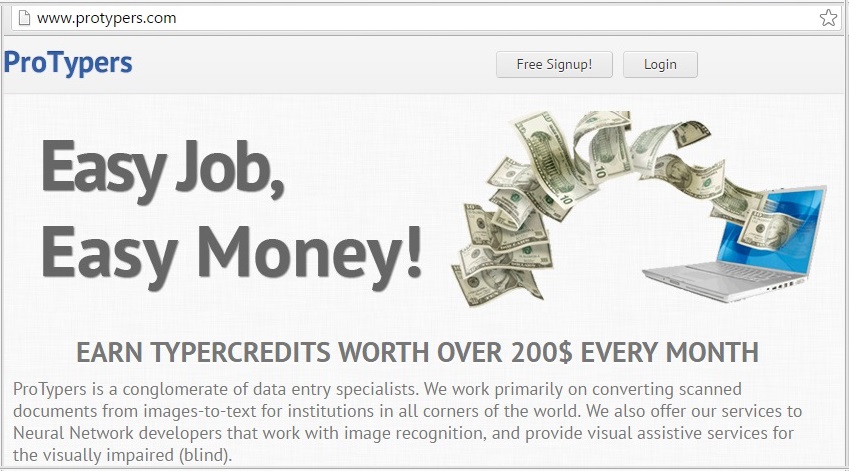 5. Captchatypers
Captchatypers is also one of the Genuine Paying Site which provide 100% real work and provide your payment on time. It Pays 0.70$ to 1.20$ Per 1000 Correct Captcha Entries. You need to type each entry within 20 second and captcha earning again depend on timing you choose for working.
Feature:
You need to work on software provided by captchatypers.

If more time-out happen then your ID would be banned for 30 Min.

Minimum payout is 2$ .

Admins and Employee ids which don't work for minimum 1 month will be deleted.

For international worker It par though Web Money,Perfect Money, Payza, Neteller And SolidTrust Pay. For Indian pay through Indian bank.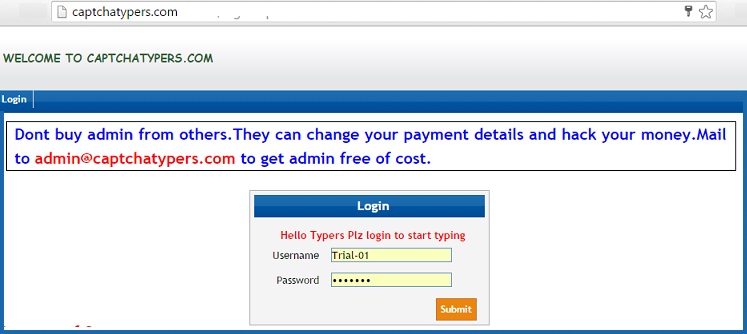 Below many more freelancing site which provide captcha solving work :
Hope you like this blog post and start online captcha entry job to make money online.if you finding any issue then write me in comment.
Thanks for reading 🙂