Well, photo editor apps are habitually used, we love adding different filters and smiley's to our pictures. Photo editing apps are free for download, but one must use the best photo editor apps only as they work like one shop stop for all the editing features you might need.
Well here in this article we guide you will best photo editing apps which are worth a try and you must go for them
Best photo editor app for android
1. Adobe photo shop Express
This application has good enough number of features for photo shop, the main photo editor app for android is free but for the premium version which has some extra filters, one can even remove red eye, mask blemishes and remove nose if they want to.
50 million apps are already downloaded so by number you can predict what popularity of this app.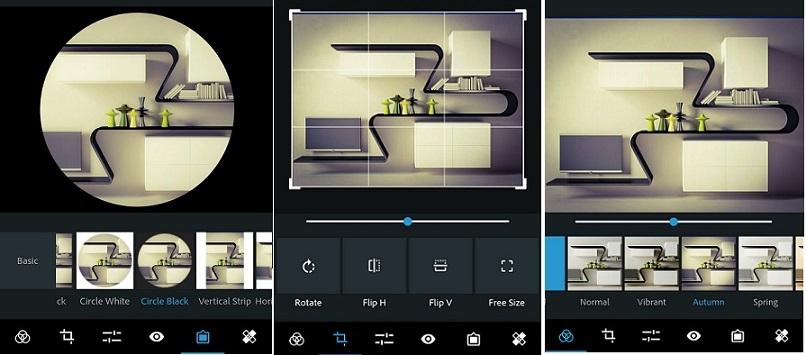 2. Photo editor by aviary 
A very popular photo editing app which comes with variety of manual adjustments and filters, this application can adjust your brightness and color, contrast as well as temperature. 
There are many stickers and cosmetic tools in the apps which gives a user an enhanced experience. Best part about this application is its user interface.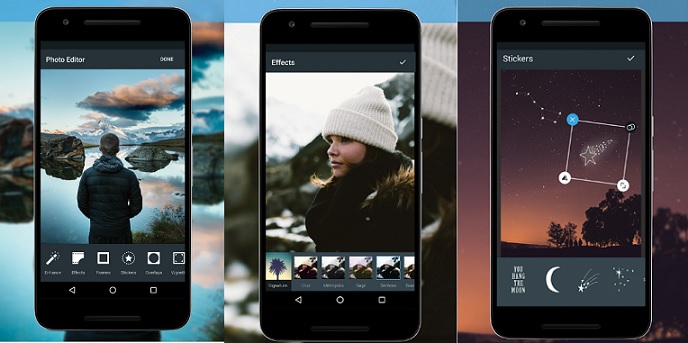 Download Photo editor by aviary
3. Fotor Photo editor 
Everyone who has used this application has only let out positive reviews about it and many blogs also recommend this as a must application, this application has more features than just editing features only, there are more than 100 filters available and it also has one tap tool for the convenient use.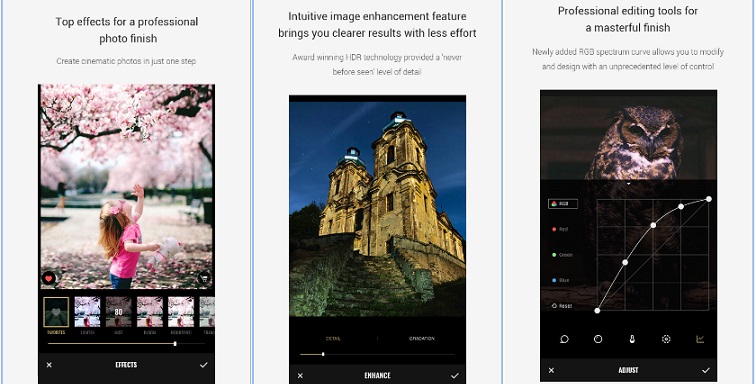 4. Photo effects pro
This is an application for people who love having different filters, stickers and crazy effects on their pictures. Photo effects pro are a user friendly application and have a unique feature of finger painting. This application is free for people to download it from play store.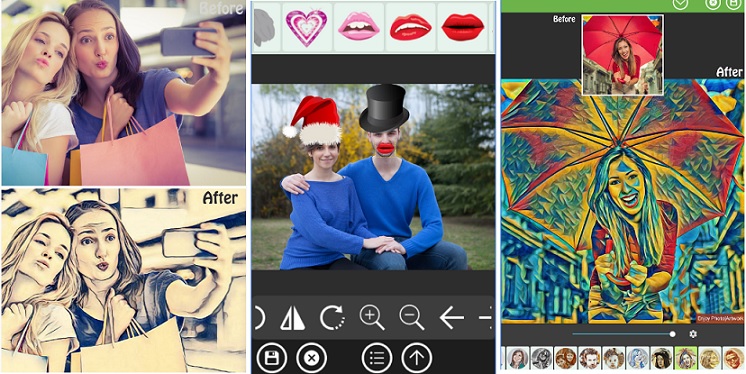 5. Photo director 
This application is one of the most used photo editing apps as it has incredible features, one can even get access to HSL sliders, RGB color channels.
Every application has the option for brightness but this application has sliders for brightness, tone and darkness and contrast so this is an enhanced benefit of having this application in your android smartphone.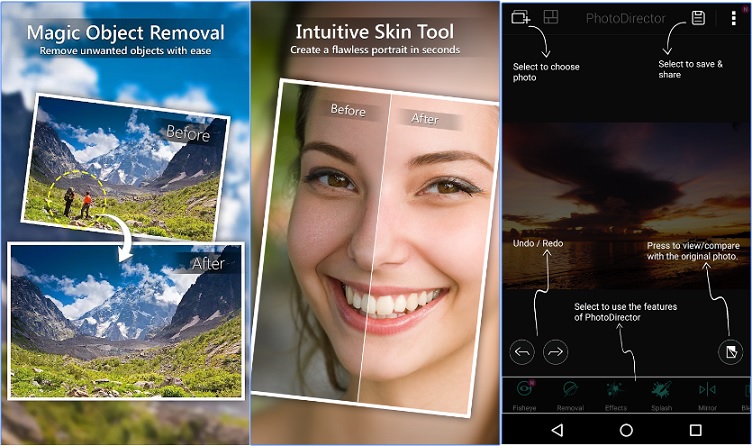 6. PicsArt photo studio 
This application has a very effective and a straightforward interface. There are options like collages and editing the photo with different filters.
When you first visit the application it will seem like a social networking site but the main purpose behind it is that a user can create his own network and also follow some good artists and there is also a feature where one can vote for the work they have liked, so basically you can connect to a large number of audience and get appreciated for your editing skills.
This application has about 250 million downloads till day so now you can figure out the popularity of the application. Once can also use this application to develop GIF's, this is one of the USP of this application which is making it even better.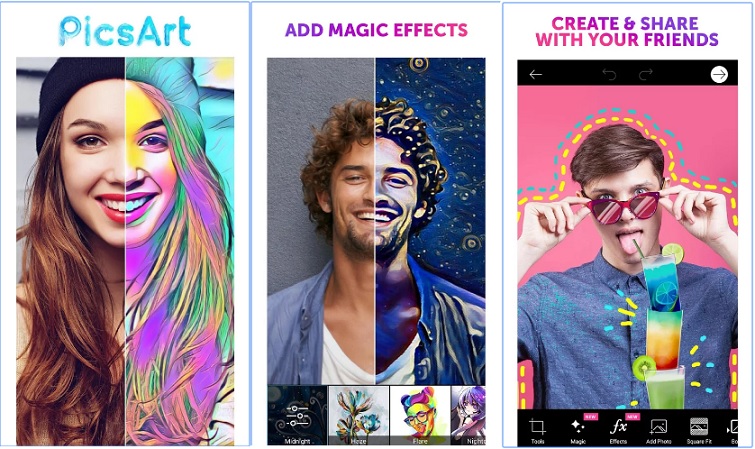 7. Photo Lab Pro 
Though this app is not as well known to many people, but it is one of the best photo editing apps for android as they have about 640 filters for the users, so now you will get tired switching to different filters but the number of filters is never ending, this application has a free as well as a paid version of it. You can even have stitch effects and can even create montages.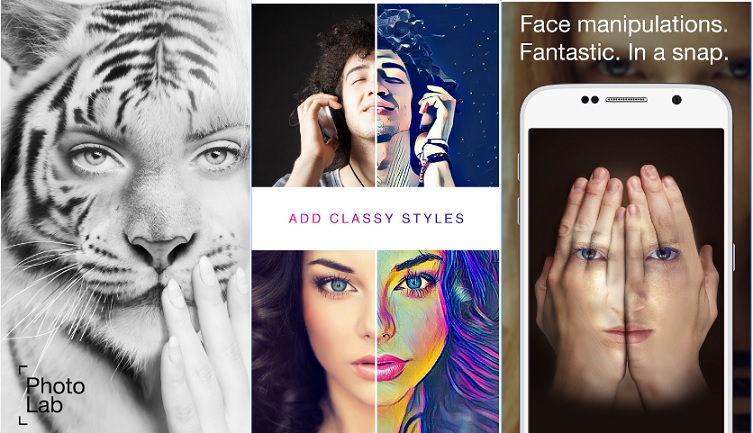 8. Snapseed 
A very latest yet one of the best applications is snapseed, this photo editing app was taken over by the Google quite a years ago and then now it is become one of the premium applications for photo editing.
This app also supports RAW photos, so you can directly click from the editor itself and edit it directly. One can even tune their images by just using a variety of sliders, you can even do it using one touch enhance tools.
The application is user friendly and does not even have a in app purchase, it is completely free.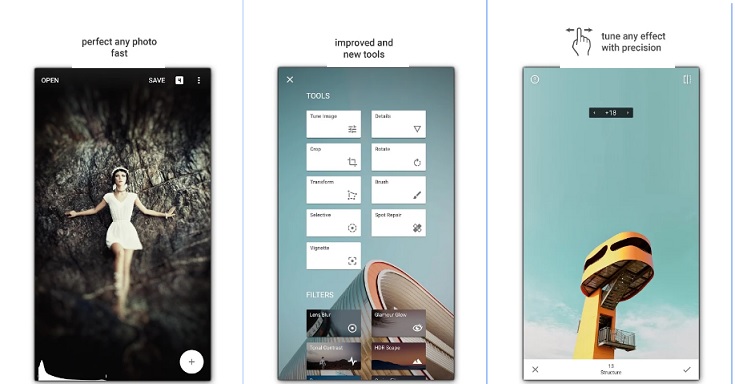 9. Prisma
A application which went viral is Prisma, earlier the application was available for apple store only but now android users can also use it as it Is also available for play store. There are about 30 creative and stylish features and the images are filtered using some artificial filters.
The photo edited from the application has a symbol attached to the every edited photo. This app transforms your photos and videos into work by famous artists like Von Gogh, Picasso, so this helps to turn your photos into a proper art work within seconds.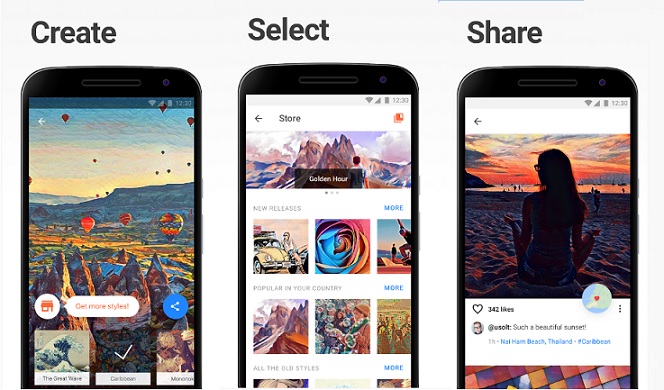 10.Photo editor by the lidow 
This application gives a hassle free experience to their users and it has fun editing tools and n number of features and filters, you can even outline one part of your photo and change it into different color, say maybe one part if black and white and the other is colorful, the USP of this application is if you feel that the megapixel of the photo is too high you can even reduce it by 3 megapixel and share it easily. This photo editor application is free for the android.
Download Photo editor by the lidow
So these were the top 10 best photo editing apps for the android users, you can download them from the play store and use them freely.
All of these applications are user friendly and easy to handle, they do not even eat a lot of your storage space so you need not worry about it.
Choose the photo editing app according to your needs, like if you want more of photo filters you can go for fotor or photo lab pro and if you want to convert your photo into a famous art then you can go for Prisma, all the applications are worth a try and you can try all of them as they are free and all you have to do is download them from the play store.
Thank you.