One quote people always  says "Health is Wealth" And Really now a days many people become conscious about their health and giving  more  & more time for their fitness either physically or mentally. But do you know there are many android and ios apps available which help you out to utilize your time and learn efficiently.
We are listing here best fitness app for android & iOS and  I'll bet  you surely download few of them.
Workout app
1. Workout Trainer: fitness coach
This android app for fitness is best for workout as it contain thousands of multimedia workout and training programs. its help you from workout training to lifting weight to weight loss at home.

Here you will get step by step  instruction from training coaches through audio, photos or video clips. This app allow you to select your program and get instruction like 6 Pack Toned Abs then you can learn and get it easily.
.

2. Nike+ Training Club
This App feature 100+ workouts designed with help of Nike Athletes and Trainers. You can treat this app as personalise trainer and help from beginner lever to advance level.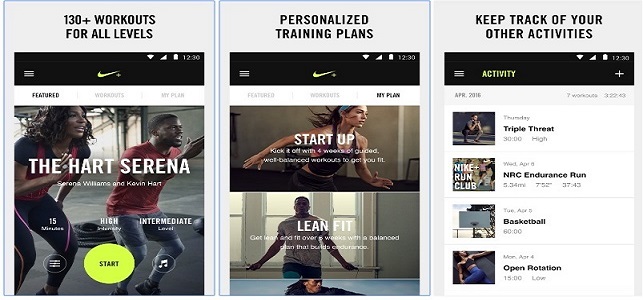 You can also record all your exercise in app and also get motivation from community of similar type by posting images after exercise done.Record each activity of future and past data easily.
3. JEFIT Workout Exercise Trainer
One of the simplest  workout apps for recording and logging your fitness exercises. you can easily track progress and historical data.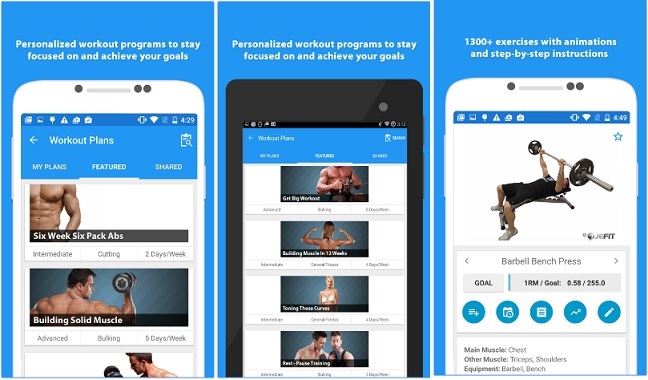 This app also work as simple personal trainers and help you in each type of workout in gym from regular exercise to body building. You can access 1300+free exercises. Here you will get motivate, Live Healthier and Save time.
4. Sworkit Lite Personal Trainer (free)
Sworkit allow user to customise their exercise by selecting time frame  from 5 to 60 minutes and plan to get become "Leaner", "Fitter" or "Stronger", or choose from dozens of individual workouts.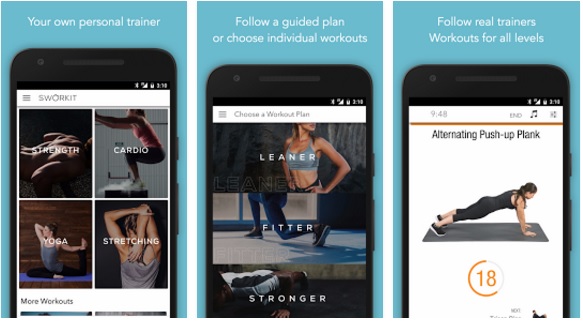 You will get video demonstration by professional expert trainer and also find subscribe version of this app which give you exclusive workouts and exercises.A monthly subscription for $4.99 and a yearly subscription for $39.99 available.
Running app
1. RunKeeper
Join community of 50 million user and counting who help you to get out of  door and  stick with running forever! Here you can track workout, set goal, follow plan and stay motivated.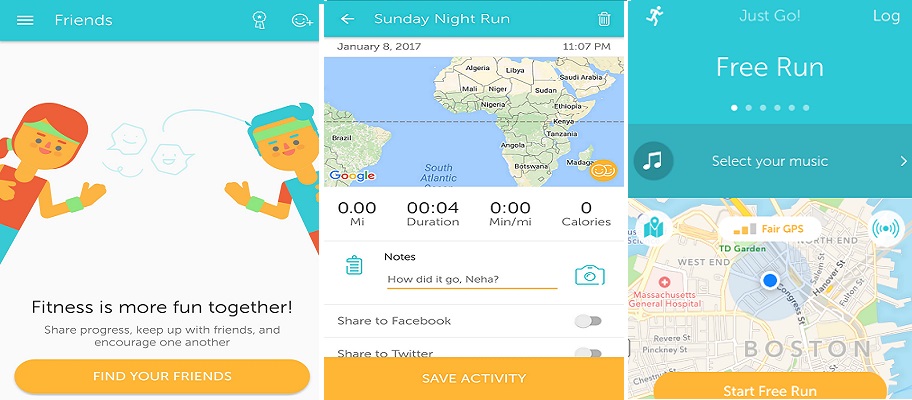 You can invite friend and check progress of each other. You can also chat to cheer your friend. This app provide insight to use it efficiently and also share your location with family and friends.
2. Runtastic Running and Fitness — Best for runners: Runtastic
Booste your running training using this app. You can track distance, time, speed, elevation and calories burned. You can track out distance by using GPS & running map.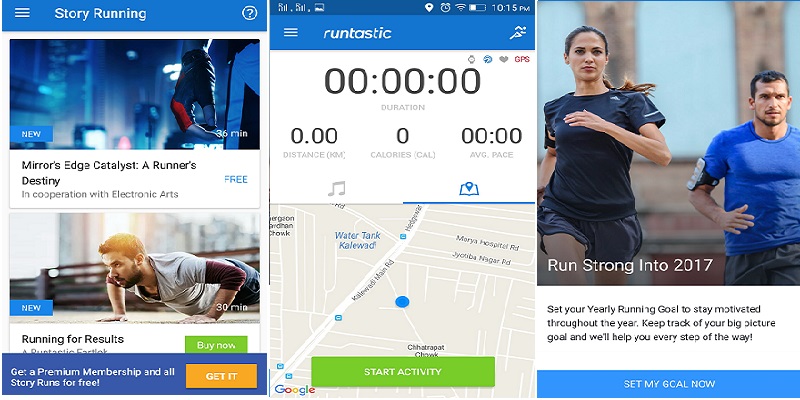 You will get Voice Coach and set your Yearly Running Goal . This app  Integration with Google Fit & MyFitnessPal. You will also get Advanced Stats, Analysis & Weekly Fitness Report
3. Strava Running and Cycling – Best for cyclists
Millions of runners and cyclists use this app to record all their activities and compare your performance from past. Here you can push your self and challenge from last activities.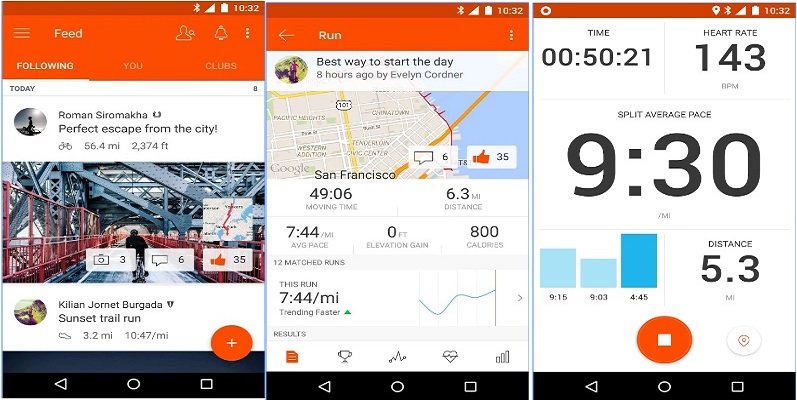 This app give you special option to Connect with Friends and Fellow Athletes. You can also track heart rate.


4. Run with Map My Run (free)
Running , jogging, workout  tracking and calorie counter available in this app. You can analyse all your exercise data by connect with 400+ devices. You can sync this app with other nutrition related app like  MyFitnessPal and Google Fit to share your data.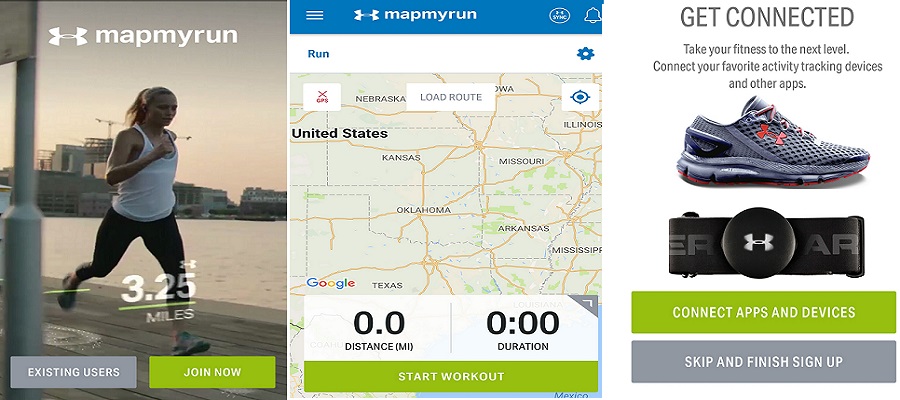 You will get 24 hour activity graph and  join challenges to win prize.If you want some extra feature like heart rate,personal training session and many more.
Diet app
1. Calorie Counter – MyFitnessPal
One of the most popular health and fitness app, Here you will get calorie counter about over 6,000,000 foods. You just need to spend 5 minute to Track your diet and exercise.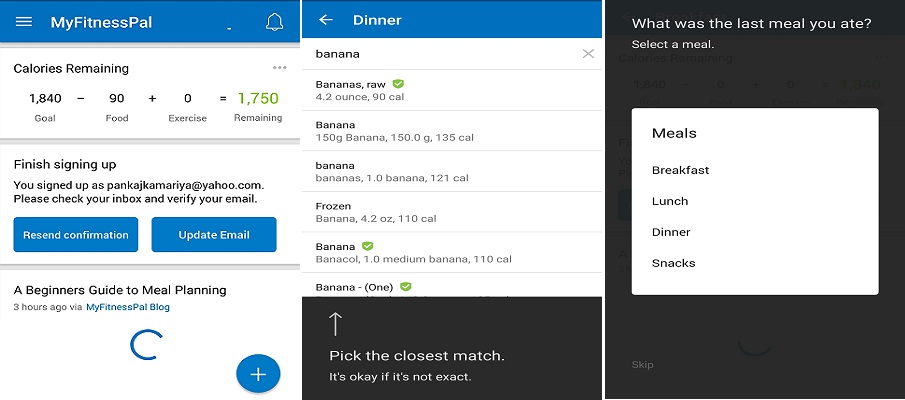 Best thing about this app is connection with other apps like MapMyFitness, Runkeeper, Strava, Runtastic, Misfit, Withings, Healthkit, and more! This app claim that their members have lost almost 200 MILLION POUNDS combined!
2. Fooducate (free)
You can learn here what to eat and when to eat.In other words I can say it's work like a nutritionist in your pocket. With help of this app you can change your diet, track your fitness and stay motivated.
This app track Over 250,000 UNIQUE products are graded just for you (A, B, C, or D) . If you have any question then also you can ask and get answer from community people.
3. ShopWell
Shopwell help you to add Best food  ingredients in shopping cart. This app is much famous and recommend by CNN, NBC, The Today Show, Cooking Light, EatingWell, USA Today and many other.
You can use food bar code scanner to INSTANTLY find the ingredients in foods at the grocery store. You will also get option to  LIVE CHAT with the ShopWell registered dietitian and get customised food recommendation.
Hope you like this post and surely download Best fitness app for android & iOS-stuffonix. Please comment us if you have any doubt.